Did you know that more than 66% of the world population use smartphones every day?! 📱
☝️ This is one of the main findings of the Digital 2021 report, published in partnership between We Are Social et Hootsuite.
Let's look at how smartphones are used in 2021 and some tips for choosing a smartphone-ready solution for your business!
2021: Facts and figures on smartphone use
Over the past few years, smartphone use has become common and enduring. Much of what we do in our private lives is done on mobile devices and dedicated apps.
Watching films and making certain types of purchases are just two examples.
The "State of Mobile 2021" report by mobile data analytics specialist App Annie confirms a well-known phenomenon: the population now spend more time on their smartphones than they do in front of the traditional TV.
5.22 billion people use a mobile phone today.
🔎  Forecasts predict that things will not stop there: the data platform Statista anticipates that there could be nearly 80 billion connected devices worldwide by 2025!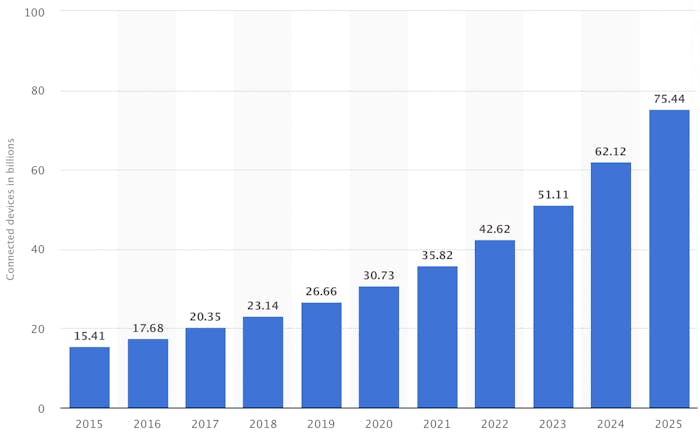 Study on number of connected devices between 2015 and 2025, © Statista 2021 alt text: number of connected devices by 2025
2. Google's best practices
From an SEO (Search Engine Optimization) standpoint, Google was quick to anticipate these new usage practices, as far back as 2016. Companies that want to optimize their search engine indexing should make mobile format their priority.
In March 2021, Google truly enshrined mobile compatibility as a key factor by creating a new indexing method: mobile-first indexing!
A competitive advantage for companies 🏄
The ultimate goal is to be able to finalize commercial transactions as quickly as possible from any location.
That means greater productivity and profitability!
If you have visited our blog recently, you will know that cloud-based SaaS technology software users instant ubiquity ✨
Add in a smartphone-ready app, and companies and their stakeholders can:
React in real time
Be 100% mobile 
Deal rapidly with essential tasks
Improve their efficiency and productivity, even remotely.
Choosing a smartphone-compatible SaaS solution
As an e-signature provider, we can offer you some general recommendations applicable to all sectors.
Here is a list of the prerequisites you should be looking for in your SaaS solution:
✔ Easy to use
✔ Compatible with all file types
✔ Real-time action and tracking
✔ Compatible with all mobile devices 
✔ HTTPS-secured
✔ Mobile usability and comfort
✔ Design responsive
❓ What is that? A responsive website displays information (text, images and video) differently depending on the size of your screen (mobile phone, tablet or desktop), on a suitable dashboard.
Specific prerequisites for e-signature:
✔   Does the solution have legal validity?
✔ Can you "sign in just a few clicks"?
Now, let us tell you a little more about Yousign!
If you want to send and sign documents electronically in a legally valid and secure way, any time, anywhere, then you've come to the right place!
Chez Yousign, nous avons souhaité privilégier votre confort avant tout : nous proposons une webapp avec une interface totalement responsive.
Mobile HR
Managing a company's human capital and administrative tasks can be made vastly easier by using a SaaS accessible from a smartphone.
TRAVELLING SALESPEOPLE 
Using a mobile device with e-signature software improves the productivity of sales teams in the field and ultimately boosts your company's overall revenues.
Save time, like our customer Camping Le Both d'Orouet ⬇
🤔  How does the signing of documents work in practice?
It's really simple, because Yousign is designed to be compatible with:
all mobile devices: smartphone, tablet, etc. 
all file types: pdf, Word, Excel, Google doc
all operating systems: iOS, Android, Windows Phone and Windows, Linux, MacOS
All you have to do is head to the to manage your account!
--
What about you? How did you choose your responsive SaaS solution?
We hope you found this article useful!