Within a few short months, the Covid crisis compelled French and global companies to bring about levels of change that might otherwise have taken years to implement. Changes in the way employees interact and the way companies conduct their business, such as remote working, virtual meetings, widespread digitisation and increasing migration. So are these changes set to have lasting implications for companies?
As we (finally?) start to see light at the end of the tunnel, a survey conducted by McKinsey & Company has examined the effects of the Covid crisis across different continents. And its findings are quite edifying.
An acceleration in the digitisation of customer interactions
Interactions with customers are naturally the first to be affected by the accelerated pace of digitisation.
During the Covid-19 pandemic, consumers turned in their droves to online purchasing, with most physical stores forced to close.  To meet this demand, large numbers of companies had to adopt digital channels to interact with their customers. In Europe, the majority of customer interactions (55%) are now digital. 
These figures make for a striking comparison alongside the other continents surveyed and also the years pre-Covid.
In terms of their rate of change, the European companies surveyed are clearly leading the pack, with an average increase of 71% compared to December 2019.This also shows that their rate of adoption is three years ahead of pre-pandemic forecasts.
A boom in digital offerings
The fastest developing business area, and that representing the greatest leap forward, is digital products and services. 
Cause and effect dictates that the more consumers seek out digital products and services, the more companies will multiply their efforts.
It follows that most companies reported a seven-year increase compared to pre-pandemic estimates.  These findings suggest that companies are likely to have refocused their offerings during the pandemic, rather than make huge leaps in product development in the space of a few months.
Disparities across sectors
This accelerated pace, however, is not necessarily consistent across all sectors.
In industries with no, or few, digital products even before the pandemic (automotive and assembly in particular), the digital product portfolio is relatively unchanged.
By contrast, there is a substantial increase reported in the healthcare, professional services and finance sectors.
Biggest changes also most likely to remain in the long term
With the worst of the pandemic now (hopefully!) behind us, we now need to consider how long-lasting these changes are likely to be. 
The three most significant changes reported by survey respondents were: 
the increase in remote working
changing customer needs
online customer interactions.
These three shifts are seemingly those reported most frequently and also those most likely to remain. The survey did indeed evidence that respondents are more than twice as likely to believe that these changes will endure even after the pandemic is over.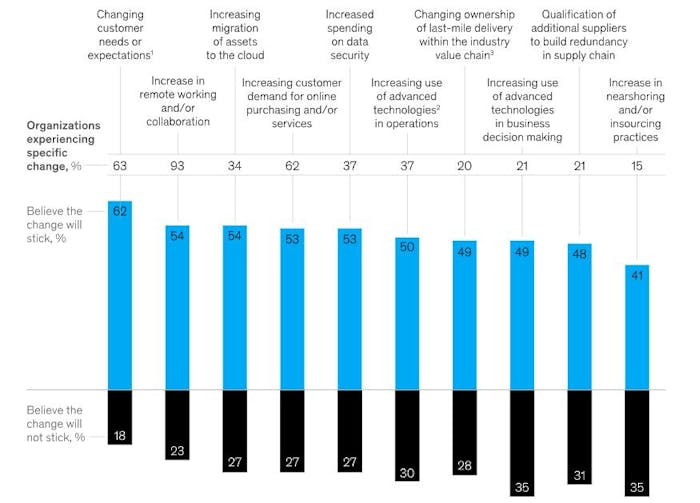 Some companies have already earmarked funds for data security and cloud migration. This expenditure represents a commitment on the part of companies to develop digital well beyond the current health crisis.
The pandemic has had, and continues to have, a disastrous impact on both a human and economic level. It has also forced companies to project further ahead and to focus on their digital transition. The survey evidences the tremendous ability of companies to adapt, having implemented change 20 to 25 times faster than previously anticipated.
In the case of remote working, survey respondents reported that their companies acted 40 times more quickly than they had thought possible before the pandemic. Some companies reported that it would have taken a year to introduce widespread remote working before the pandemic. When Covid struck, it took an average of just 11 days to set up remote working at scale.