"The most valuable companies in the world are built on top of APIs. They allow companies to scale faster, be more agile, and create new revenue streams." - Jeff Lawson, Entrepreneur, CEO and cofounder of Twilio -
In the fast-paced world of modern business, integrating technology can be a game-changer, allowing companies to streamline processes and increase efficiency. 
Electronic signatures have emerged as a vital tool in this regard, saving time and enhancing productivity. If you're looking to leverage the power of electronic signatures in your business, Yousign's API offers a robust and versatile solution with a host of benefits. 
In this article, we'll explore the advantages of using the Yousign API for your internal processes and examine the potential outcomes it can deliver for your business.
Understanding the basics: what is an API?
Are you familiar with the term API? Let's start with a brief explanation. 
An API, or Application Programming Interface, is a communication tool that enables two programs to interact with each other. 
APIs are useful for businesses in three main ways:
First, APIs can automate internal processes, making them more efficient and streamlined.
Second, APIs can add value to end-users. For example, a company might integrate an e-signature API into its software, making the e-signature process more convenient and less time-consuming for users.
Third, APIs can seamlessly integrate e-signatures into products that businesses sell to their clients. This can make the products more attractive to customers and increase sales.
What can businesses expect from the API of Yousign?
The benefits of our API are multi-faceted and may vary depending on the specific use case of each business. Therefore, the API of Yousign is designed to be flexible and scalable, allowing businesses of all sizes and sectors to benefit from it. 
While the advantages of e-signatures have been extensively documented in B2B marketing, the potential of an e-signature API is often overlooked. 
However, Yousign's API can deliver outstanding results that can transform the way businesses operate:
One Tool for the Entire Process: Work smarter, not harder
In business, signing a single document can often require employees to juggle various tools such as emailing, CRM, and editing software. This can quickly become overwhelming and increase the risk of errors and inconsistencies.
To simplify your life, the API of Yousign can be integrated into your daily workflow and streamline your workflows. By reducing the number of tools your employees need to use, you can decrease the risk of errors and inconsistencies in document preparation and signing.
Once your document is ready, you can easily send it out directly via the Yousign API. Instead of waiting many hours or even days that your business partner signs the document, more than 60% of all digitally send documents are signed within 15 minutes with Yousign's electronic signature.
Focus on your core business: Let API handle the rest
Administrative work can be a significant drain on resources, taking up valuable time and contributing little added value in today's business world. 
Did you know that European companies lose an average of 136 working days each year on manual administrative processes? This represents a staggering loss of productivity, costing nearly 30 billion Euro. 
However, by eliminating the need for manual document signing and integrating the Yousign API into your tools, you can enhance productivity and overall efficiency. Our clients, including Sellsy, Alfonsino, and Liechtenstein life insurance company, have successfully scaled operations without the need for additional hirings. 
By streamlining administrative processes, your employees can focus on work that truly matters to your business, boosting your bottom line and gaining a competitive advantage in the marketplace.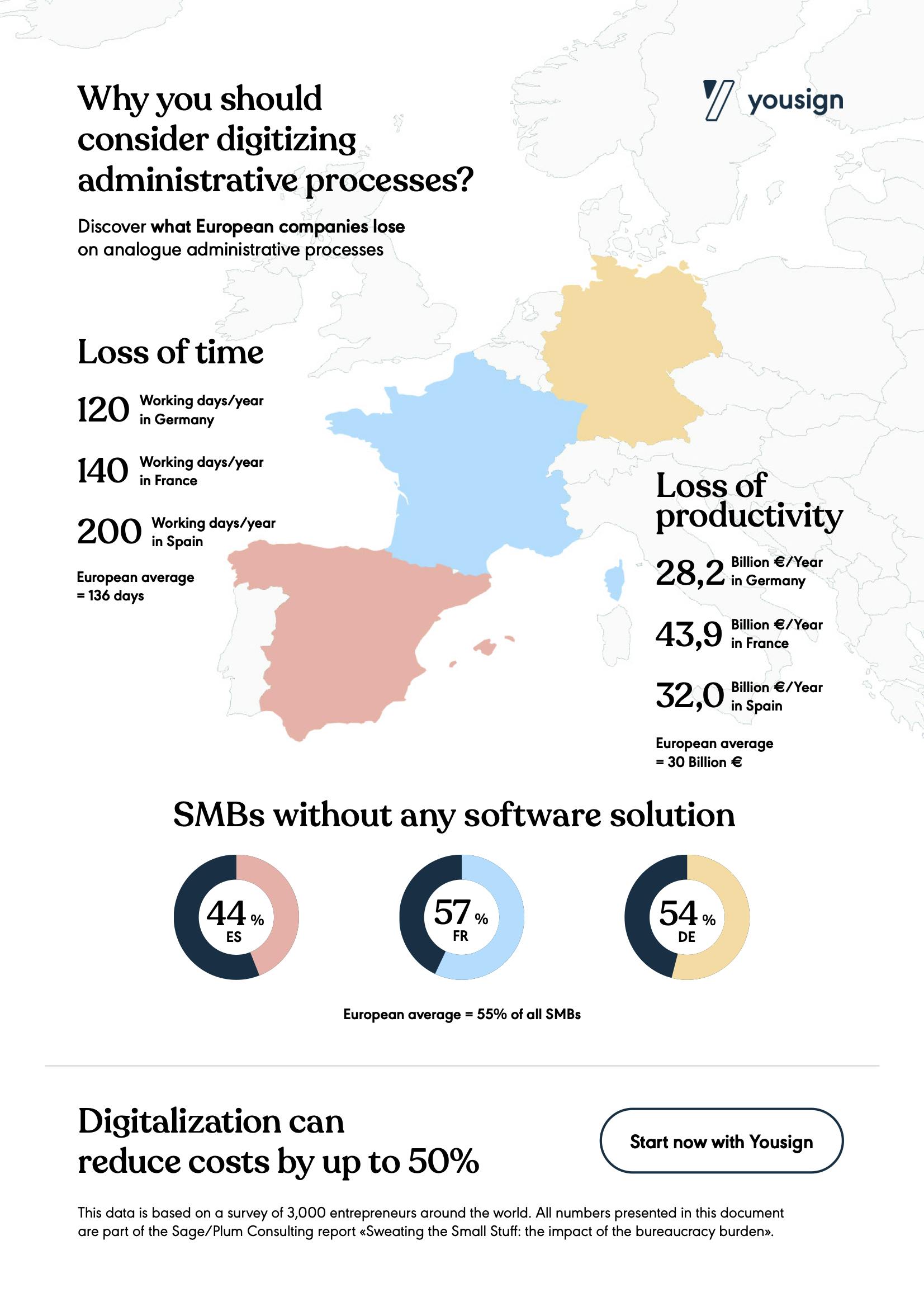 Reasons for why you should digitize your administrative processes
Security First: Mitigating Security and Compliance Risks
Incorporating e-signatures into your business processes has the advantage that you can effectively minimize security and compliance risks. 
Across many industries, regulatory requirements mandate the use of signatures on legal documents. However, opting for signature methods like PNG or forgoing signatures altogether can leave your organization vulnerable to legal disputes and financial losses. 
By leveraging Yousign's e-signature API, you can mitigate these risks. 
The API is engineered to adhere to the latest security and compliance standards, ensuring that your documents are secure and legally binding. 
Additionally, by utilizing a reliable and secure e-signature solution, you can maintain positive relationships with clients and collaborators. As a European certified e-signature provider, Yousign prioritizes GDPR compliance and strictly adheres to EIDAS guidelines. Our commitment to data privacy and legal requirements means that we rigorously adhere to any level of signature requirement. Plus, our databases and servers are based in France and are EIDAS certified.
Sales in the fast lane: Shorten Sales Cycles & Increase Conversion Rates
In the world of business, the length of a sales cycle can make a big difference in the success of a company. 
Before using the Yousign API Sellsy faced a long closing time: "Getting a quote signed was always complicated: it had to be printed, scanned and sent back, and that's often when we lost 48 hours. During that time, maybe the customer would change their mind or choose another solution."
Today, Sellsy sends out their quote with one click inside their CRM and their customer receives the quote instantaneously. As a result, Sellsy closes deals faster, increased their conversion rate and was able to shorten their sales cycle drastically. 
By streamlining the signing process and expediting document delivery to clients, businesses can significantly improve their conversion rates and accelerate revenue generation. This not only expedites the sales process but also enhances the customer experience, fostering increased client satisfaction and loyalty. Ultimately, a streamlined sales cycle results in improved efficiency, higher conversion rates, and faster revenue generation.
Saving costs & increasing ROI with Yousign API: Game-Changing Efficiency
According to a recent study by Forrester Research, businesses that implemented E-signature technology realized significant financial gains. The Total Economic Impact (TEI) study revealed that organizations utilizing E-signature technology experienced an impressive 3-year return on investment (ROI) of 420% and saved an average of $6 per document.
This technology also helped businesses save time on document preparation, reduced errors and rework, and increased overall productivity. 
By eliminating the need for paper-based documents, printing, shipping, and storage, the electronic signature API solution can help you to reduce your overall operational costs and to improve your bottom line process.
Drive Your Business Forward with Yousign's e-Signature API
In conclusion, the use of tools is essential to stay competitive in the market. However, an excess of tools can lead to decreased efficiency, which hampers your ability to focus on your core business activities. 
Therefore, we suggest adopting a simple yet powerful e-signature tool that integrates seamlessly with your main software through Yousign's API.
The API acts as a crucial connector that streamlines your document signing process, enhances efficiency, and helps you save time and money in the long run. 
With Yousign's API, you can enhance your workflows, improve security and compliance, and increase your conversion rates, ultimately driving better ROI for your business.