Antoine and I founded Yousign about 5 years ago, with a simple idea in mind: make life simpler for companies. Generalising the use of the e-signature, helping companies push their digital transition all the way to the end, giving them access to a truly life-changing digital tool. This type of project knows no bounds. Right from the start, we wanted to create a solution that had an impact socially, economically and environmentally. I am obviously talking about dematerialisation and companies' digitisation.
The idea matured, the solution evolved overtime. First, thanks to our endless sleepless nights, then through the support of our whole team that's been growing for the past 5 years. 30 people now work on this project, and we do not have the intention to stop there.
We have reached our first objective. In just a few years, Yousign has had a major role in the e-signature world in France. Our solutions are used by SMB's but also by larger companies like BPI, Cisco or Fiat. Signing a document is a universal process that touches all business: the property business, insurance business, banking but also tourism, retail or nonprofit.
Developing in France has allowed us to become more structured, to provide quality services while building competent teams with valuable experience. It's high time we moved on to the next step.
We met Thibaud Elzière in 2013. We had just launched Yousign and the electronic signature was a high-interest topic for him at the time. We decided we wanted to make Yousign grow by ourselves whilst eFounders was working on their successful projects. Our paths crossed again last summer and we quickly realised that we had common ground. Yousign perfectly matched the type of solutions that eFounders developped. Leveraging on Thibaut and Quentin's expertise, we decided they could give us the boost we needed in terms of growth and international ambitions. Our ambitions collided in an effort to create the european leader in the e-signature market.
🎉 We are extremely proud to announce this new partnership between Yousign and eFounders ! 🎉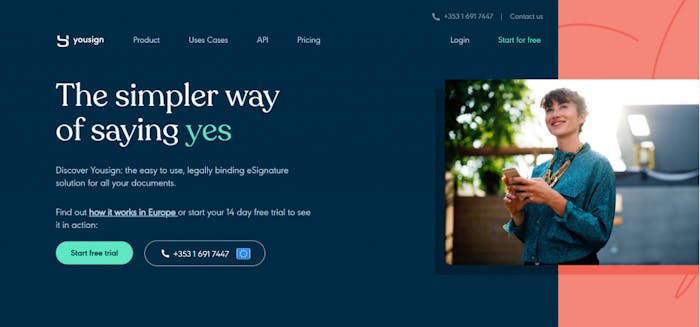 Yousign is ready to take on the european challenge. As of today, our website is available in 4 different languages, and is set to expand even more in order to chase these new market opportunities. Our goal is clear: making the e-signature universal on every type of transaction around Europe. This partnership gives us this opportunity and the whole Yousign team is excited to take on this challenge. We will then keep at it by focusing on what sets us apart: quality solutions and closeness with our customers.
Thanks to Yousign, saying "yes" has never been so simple. 😉
Luc Pallavidino et Antoine Louiset, Yousign's Founders
If you're interested in the e-signature, send us an email at hello@yousign.com