Hypermetropia, hyperhidrosis, hypersomnia... In general, the addition of the prefix "hyper" isn't good news. However, you'll see that when it comes to digitalisation, the prefix "hyper" doesn't have to mean drama.
Why is digitalisation so important?
So, you've been hearing over and over about the digitalisation of businesses. 
Is it useful? Is it worthwhile? Is it important? Is it gluten-free? 
Today, we're going to assume that you already know all this (and if you don't, don't panic: we've already written an article on the topic), and we're going to try to convince you by telling you why the digitalisation of businesses is so important. 
How we interact with businesses has changed dramatically from the past (by the way, if you're still using a rotary phone, we'd love to see it, so get in touch!)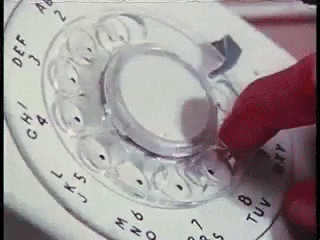 Customers expect a seamless, frictionless, and above all… personalised experience. To meet these expectations, businesses need to transform themselves to go beyond customer service and deliver a true customer experience. 
Still not convinced? Here's why you should digitalise your business:
To meet customer expectations: customer expectations are changing rapidly, particularly in terms of customer experience. To meet these expectations, businesses need to make the customer experience more seamless, for example by offering self-serve access. This can be done by automating manual processes.
To increase the number of customers: the number of people likely to buy your product or service has increased thanks to the rise of teleworking. As businesses, you have to take this shift into account.
To cut costs: many organisations have existing systems that need to be modernised. The cost of maintaining and upgrading these systems is often very high. That's one of the main reasons why many organisations don't want to change.
What you need to know about hyperdigitalisation
Today, almost all organisations are digitalising their business processes to improve customer experience, increase efficiency, and cut costs. This shift towards digital will become even faster in the coming year thanks to hyperdigitalisation. With the transformation of digital technology into a new paradigm, we'll see businesses become even more "digital native" and connected through new technologies such as artificial intelligence (AI), the Internet of Things (IoT), blockchain, and system integration.
What is hyperdigitalisation?
Hyperdigitalisation is the next phase of the digital transformation. It marks the transition from a digital world to a hyperdigital world. This means that businesses will become more digital to become highly integrated, automated, and automating. At the same time, technology will be transcended by artificial intelligence (AI), the Internet of Things (IoT), blockchain, and system integration, which offer new and innovative ways to process and automate data.
7 ways hyperdigitalisation will change businesses
Digital technology is becoming hyperdigital. Digital technology is already powering many aspects of businesses, but hyperdigitalisation is speeding up this change through increased automation and AI.
The customer experience is key: The customer experience is central, and customers will be able to choose the path they want to take. Businesses need to understand that customers are looking not only for price and quality but also for a seamless experience.
Businesses are becoming more customer-centric: The commercial landscape is more customer-centric, with businesses competing based on customer experience rather than price. This is already the case in the financial services and healthcare sectors.
Data is becoming more valuable: Businesses are already collecting more data, and this trend will continue with the Internet of Things and blockchain. The more data businesses have, the more valuable it becomes because it can be used to create new business models and improve forecasting and decision-making.
The customer experience is optimised across all channels: In a hyperdigital world, businesses will offer customers a consistent experience across all channels. This means, for example, that customers who buy a product online can pick it up in a shop or vice versa.
New technologies and new skills: New technologies, such as AI and blockchain, will be adopted, while new skills will be needed. This will create new professional roles and ways of working, which will lead to a more productive organisation.
3 key implications for businesses
When thinking about the implications of hyperdigitalisation for businesses, there are four key areas to consider:
Customer experience: The customer experience is vital, and businesses will need to rethink how they operate because customers will interact with many more systems and channels when they are in contact with a company.
Technology: Technology will be crucial. This can be seen in the growing adoption of AI, blockchain, and other new technologies.
Organisation: Businesses must change how they are organised and choose their partners carefully.